10th single "Neptune☆Sagashite" hits Japanese stores on August 7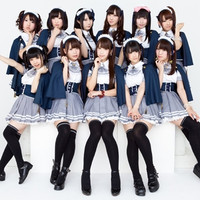 Following the OP song "Dimension tripper!!!!" by nao, 5pb posted a full promotional video for "Neptune☆Sagashite" by Afilia Saga, the ED song for a 2013 summer TV anime Chou Jigen Game Neptune The Animation, which will start airing in Japan on July 12. The 11 girls idol group have sung the ED songs for the first game Hyperdimension Neptunia (August 2010) and the third game Hyperdimension Neptunia Victory (August 2012).
The CD single which is scheduled to be released on August 7 will also include "NEXT STAGE!," the OP song for the PS Vita game Kami Jigen Idol Neptune PP. The latest Neputune game was released in Japan on June 20. How do you like the song and their dance?
"Neptune☆Sagashite" PV
CD jacket
"Kami Jigen Idol Neptune PP" OP
© 2013 Idea Factory/Compile Heart/Neptune production Committee