Produced by Diomedéa (Kodomo no Jikan, Squid Girl, Astarotte no Omocha!)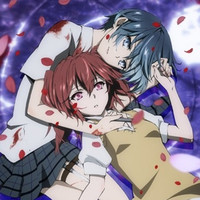 The official site for the upcoming anime adaptation of a school manga Akuma no Riddle/Riddle Story of Devil by Yun Kouga (story) and Sunao Minakata (art) posted its first key visual and announced the anime production staff today. The manga has been serialized in Kadokawa Shoten's Newtype anime magazine since September 2012 and the first tankobon volume just hits Japanese bookstores on today July 10. The anime is slated for the 2014 release.
The story is set in the 10th year's Kurogumi class of Myojyou boarding girls' high school. The class is consisted of 12 assassins and their target, a girl named Haru Ichinose. Haru knows her life is in serious danger, but has decided to survive somehow till the graduation. Azuma Tokaku who is recently transferred to the class is also trying to kill her. However, she gradually became attracted to Haru.
The anime is produced by a Tokyo-based company Diomedéa (Kodomo no Jikan, Squid Girl, Astarotte no
Omocha!). Keizo Kusakawa who directed Magical Girl Lyrical Nanoha A's, Magical girl lyrical Nanoha StrikerS,
and Ro-Kyu-Bu! serves as the director.
Main staff
Original creator: Yun Kouga (Loveless, Earthian)
Original character designer: Sunao Minakata (Nanami and Misuzu)
Director: Keizo Kusakawa
Series composition: Kiyoko Yoshimura (Last Exile: Fam The Silver Wing, The Legend of the Legendary Heroes)
Character designer, chief animation director: Naomi Ide 
(Astarotte no Omocha!, Problem Children are Coming from Another World, aren't they?)
Production: Diomedéa
1st anime key visual
Manga key visual

Cover of the manga 1st volume
Source: Comic Natalie

© Yun Kouga/Sunao Minakata/Kadokawa Shoten/Akuma no Riddle Production Committee