Robot can be piloted by a single child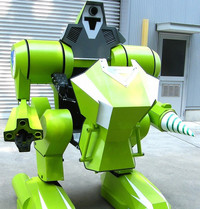 Continuing on the company's previous work creating child-safe robots, the 2-meter-tall, 360-kilogram machine is fully moveable in all directions and can pick up items with its right arm, while its left arm features a spinning drill. The robot took approximately one year from conception to creation.
Known for producing agricultural machines and equipment, Sakakibara Kikai also has an amusement division that has produced advanced several types of robots, including machines capable of boxing. The company rents out its robots for events and other public appearances.
The Kid's Walker Cyclops improves on its gasoline-powered predecessor, the original Kid's Walker, by including a battery-powered engine suitable for indoor use. The robot also has a number of sensors installed in the cockpit, allowing for the machine to be piloted with a light touch.
The company will be revealing its next advances in robotics in the near future.
Link:
Sakakibara Kikai