Possibly one of the best 1:1 ratio figures ever made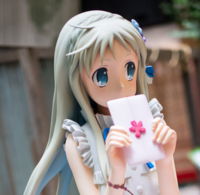 A fan in Japan posted a detailed photo report of the Anohana Natsumatruri (Anohana Summer Festival) which opened on the 13th of this month in Odaiba, Japan. We have reported on the life-size Menma figure before it was painted, but check out the fully painted Menma with beautiful photos taken by the blog owner below.
Anohana Natsumatsuri is currently being held at Aqua City in Odaiba, featuring the Menma figure and the reproduction of the Super Peace Busters' secret base.
This photo gave me chills, literally.
That's Menma!!
There are more beautiful photos of her available at his blog.
Photos via Wotani Tsukeru Kusuri Nashi