"Dripping with sweat instead of blood"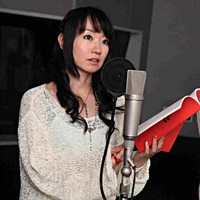 It is revealed today that popular anime voice actress/singer Nana Mizuki voices the lead character Mia for the Japanese DVD/Blu-ray of Evil Dead, the 2013 remake of the 1983 horror classic The Evil Dead directed by Sam Raimi. Mia was played by Jane Levy in the film. Rina Sato (Mikoto Misaka in A Certain Magical Index and A Certain Scientific Railgun) plays Olivia (Jessica Lucas) who is possessed by demons. Other cast are Yuichi Nakamura (Shiloh Fernandez as David), Wataru Takagi (Lou Taylor Pucci as Eric), Haruka Tomatsu (Elizabeth Blackmore as Natalie), and Kana Asumi (Phoenix Connolly as a girl). It was the first live action dub work for Asumi.
Mizuki honestly confessed to the reporters that she was a coward when it came to horror films and she had to keep shouting dementedly "dripping with sweat instead of blood" in the end of the dub session. The Japanese edition of the Evil Dead DVD/Blu-ray will be released in Japan on October 9.
Nana Mizuki in the recording booth
(from left) Kana Asumi, Nana Mizuki, Rina Sato
1983 & 2013 films combo Blu-ray set
Source: Animate.TV
© 2013 Evil Dead, LLC.
© 1981 Renaissance Pictures, Ltd.