Long-running boxing manga gets third anime adaptation... but what about the coach?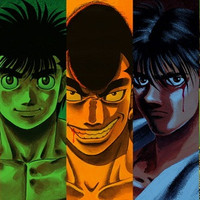 The latest issue of Weekly Shounen Magazine has great news for fans of boxing manga Hajime no Ippo--a third anime adaptation is on the way! From the looks of this promo image, the new adaptation will be covering all the way up to the Takamura vs. Eagle fight, meaning material from around volumes 45-58. It's not known yet whether it will have a fancy new title (like the second adaptation's New Challenger), but this new series will be starting in Fall of 2013.
And of course, there's Aoki and Imae playing pat-a-cake on the left
The anime for Hajime no Ippo--released Stateside as Fighting Spirit--never really had a chance in the US. While the first anime based on the very-long-running boxing manga (set to release its 104th volume) was released on DVD by Geneon, the second series, Hajime no Ippo: New Challenger, was never picked up for streaming or physical release in the West.
I'm hyped as hell for this--Dragon Slayer, the brutal Ippo vs. Sawamura fight, is one of my favorite matches in the entire series. My only concern is who will be voicing Coach Kamogawa, and if they'll be covering his insane backstory--sadly, voice actor Kenji Utsumi recently passed away, taking the Coach's unforgettable growl with him. Have you been looking forward to more anime for Hajime no Ippo? Would you watch Hajime no Ippo streaming on CR?
via ANN