Also featured a pink twin tails hair girl "Support Android Rui"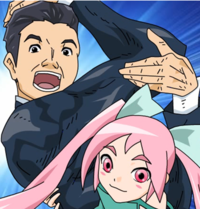 Japan's 23rd House of Councillors election was over on Sunday July 21. It is reported that one of the DPJ (Democratic Party of Japan) candidates made a theme song sung by the most famous vocaloid character Hatsune Miku and used it during the campaign. The 45-year-old candidate's name was Yoshikazu Tarui and he was a candidate under the proportional representation system. Unfortunately for him and his supporters, he was defeated in the Sunday election. But was it OK to use Hatsune Miku for a political purpose? What's your opinion?
He also used a pink twin tails hair character named "Support Andoroid Rui" to explain the election system and his policies in the anime promotional videos.
Yoshikazu Tarui theme song
Support Andoroid Rui
Illustrated Tarui and Rui (from an anime PV below)
The real photo of Tarui
Source: Hatsune Mikumiku