Sculpture took a little over a month to create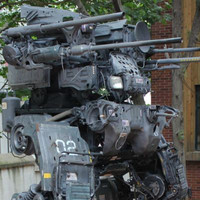 How do you show your love for mecha? If you're Chinese design student ProgV, as he is known on Deviantart, you take your dad's old truck and make something bad ass.
According to his Deviantart post, the scultpure took "almost a month" and over one ton of spare car parts - his dad's old Nissan truck plus some random stuff from a dump - to create.
He doesn't just build mech - he also draws them.
And the occasional Girls und Panzer fan art.
-------
Amanda Rush is the Associate Editor for Ani.Me and contributor for OtakuCollectionDX. She swears in the middle of the night on Twitter as @TheAnimaven.