Toonami also plans to add "Star Wars The Clone Wars" in the place of "Eureka 7: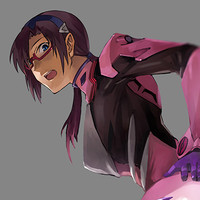 On March 17th, Toonami celebrated the programming block's return by airing Evangelion 1.11. It pulled 959,000 viewers and Toonami responded to a Tumblr question as to whether they were satisfied with Eva with "We were. It was a solid showing that gives us something to build off of as we think about what our NEXT movie might be…" Now, the time has come for the follow-up.
Toonami will be closing out the summer with an August 31st airing of 2.22.
Toonami remarked
"Anonymous Asked: Are you guys gonna have another "month of movies" like the "Month of Miyazaki"?
Hmm maybe at some point! But since you asked about movies, now is as good a time as any to announce our NEXT MOVIE- on August 31st, we're proud to announce that we'll be airing NEON GENESIS EVANGELION 2.22, YOU CAN [NOT] ADVANCE, along with a special little goodie that you'll have to wait to find out about! How 'bout THEM apples??
Meanwhile, Star Wars The Clone Wars joins Toonami August 17th replacing Eureka 7.
Again, Tonami remarked
On August 17th, Eureka 7 will be going away, never to return. We'll be sorry to see it go. Replacing it will be STAR WARS: THE CLONE WARS, which we're very happy about because we always felt it was a Toonami show. FYI: We'll be skipping some of the non-continuity (read: Jar Jar) eps, but they'll generally run in order. AMERICAN CARTOONS BELONG ON TOONAMI! xoxoxoxo"
what's replacing Eureka 7?? Are you guys going to get "Eureka 7: AO" when it gets dubbed???
We're of course looking at Eureka 7: AO."
On the subjects of shows not picked up...
"Anonymous Asked: Viz reps on ANNCast have said you rejected Tiger and Bunny. Since they've gone on record about this, can you confirm or deny this? If so, please reconsider.
We haven't "rejected" anything. We have two very successful Viz shows on the air at present, and until/unless one of them is removed from the block, we don't have any availability for more. We'll see what the future holds."
Panty And Stocking (1 of 2):
"Anonymous Asked: So I was at Comic-Con and I approached one of the higher ups at the FUNimation booth and he said that when they brought Panty & Stocking to you guys, you rejected it. Considering that Adult Swim is privy to adult oriented shows and that AS was cool with airing Shin Chan when FUNimation brought it to you, why did you reject it?
At this time, we felt One Piece and Soul Eater were a better fit for the block."
Panty And Stocking (2 of 2):
"jAsked: In regards to Panty And Stocking, I always felt it would be way more at home with Aqua Teen and Squidbillies since the comedy is the main focus of that show. Besides, it doesn't really look like anime, so it would fit right in. What do you guys think? Toonami or [as] Comedy?
It's unlikely we'll be showing Panty & Stocking."
via @ToonamiNews
thumbnail via http://www.pixiv.net/member.php?id=279153
-------
Scott Green is editor and reporter for anime and manga at geek entertainment site Ain't It Cool News. Follow him on Twitter at @aicnanime.