Celebrate August 1th day of male romance media!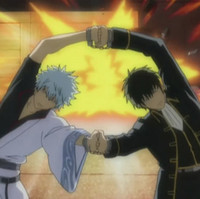 This morning, the great fan chronicler of Gintama merchandise,@habisan Tweeted a reminder that today yaoi today, accompanied by a screenshot of one of the series' fake Gintoki x Hijikata DVD covers, featured in the year end segments on episodes 92, 145, and 193.
In Japanese, a short reading of "801" can be reading 8 as "ya," 0 as a western influenced "o" and 1 as "i." So, the "yaoi" numeric sequence has become otaku shorthand for the genre of male romance media and, following that logic, in countries that list the date month-day, August 1st is yaoi day!
Perhaps the best known representation of "801" is from Ajiko Kojima's yaoi fangirl comedy Tonari no 801-chan. The four panel comic strip follows the relationship between a 28-year-old otaku and his 22-year-old girlfriend, whose yaoi obsession crawls out of her body as a fuzzy green monster.
Between Free!, Attack on Titan, and even the lines of the Japanese run Sherlock, it's a great time for yaoi fans. It seemsed like the majority of the AoT material at the decidare Fall of Well doujinshi event focused on Eren x Levi, and that was before the latter was before the latter became a major fact in the anime.
Yaoi fans also have a new season of Kuroko's Basketball to look forward to.
Despite all this inspiration material, spokeswoman Ajiko Kojima has been very quietly lately. After releasing a collection of her 801-Chan+ manga, about balancing yaoi mania with marriage and raising a baby and showing up for Comiket last winter, she apologized that she was slowing down her blogging and other work to due to the demands of motherhood.
And if yaoi isn't your thing, busty series Senran Kagura and Highschool DXD teamed up to celebrate Pai Day's Nyuunyuu Festival with promo give-ways and digital wallpapers.

------
Scott Green is editor and reporter for anime and manga at geek entertainment site Ain't It Cool News. Follow him on Twitter at @aicnanime.