Over half a million raised for second episode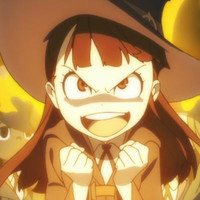 If you backed Little Witch Academia's second episode on Kickstarter, good news: the crowd-sourced fundraiser just achieved the stretch goal of $500,000. What does that mean for backers? Basically, more. Backers who pledged for the standard edition of the blu-ray will get an audio commentary, while limited edition backers get an original soundtrack and a line art collection book.

Studio Trigger posted a little celebratory picture:

Previously, they sent out examples of some of the art that would get sent to backers who pledged over $100 (though the examples were from episode one - the actual art will be from episode 2).
They also sent out pictures of LWA 1's blu-ray and booklet samples, just to give backers an idea of what they can expect.
If you haven't backed the project and want to jump in now that you know for certain you'll get more bang for your buck, do it now. The kickstarter will end August 7th.
-------
Amanda Rush is the Associate Editor for Ani.Me and contributor for OtakuCollectionDX. She swears in the middle of the night on Twitter as @TheAnimaven.