Landmark anime film to be re-released later this year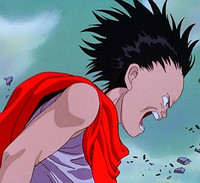 With YouTube celebrating its first "Geek Week" this week, FUNimation has decided to kick off the event by postingt a new teaser trailer for its release the landmark anime film Akira, being released later this year to celebrate the film's 25th anniversary. The film will be released later this year in a BD/DVD combo format, but additional details on the 25th anniversary edition release have yet to be confirmed.
The film was previously handled by many distributors in the US since its release, with the most recent releases being handled by Bandai Entertainment on both Blu-Ray and DVD before being knocked out of print due to the shutdown of the distributor last year. More specific details on the release are expected soon, with the penultimate major con of the Summer in Otakon being held next weekend.
Update: FUNimation has confirmed in the comments of its YouTube page for the teaser trailer that the 25th Anniversary release will feature both the Streamline Pictures and Pioneer English dub tracks as well as the Japanese track with English subtitles.
---
Humberto Saabedra is the Owner of AnimeNews.biz, Editor-in-Chief of PhoneNews.com and an occasional columnist for Ani.me. He can also be found musing on things (and Nico Robin) at @AnimeNewsdotbiz