The author's answer to a question drove fans fantasies wild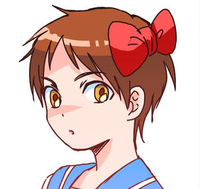 Isayama Hajime, the auther of the always thrilling Attack On Titan, made an appearance at an event hosted by Bessatsu Shonen magazine amongst other mangaka on August 4th and took time to answer a question "What if the main character's gender was reversed?" What he described as female Eren drove fans on Twitter wild with their interpretation!
Bessatsu Shonen Magazine Kanshasai 2013 is an annual official event hosted by the manga magazine and Isayama was one of the mangaka among other popular mangaka featured in the magazine such as Oshimi Shuzo of Flowers Of Evil.
There was a segment where mangaka were asked questions and answers were provided by drawing on a sign board and the above question was asked during this segment. Illustrated answers by the mangaka were also permitted to be photographed as long as they were not uploaded. It didn't take too long for the fans to post their traced version of an officially illustrated female Eren.
via @ki_lly
Isayama-sensei said female Eren has about the same bust line as Mikasa, the face stays the same as the male version, makes scary faces when eliminating titans, the hair is up in a bun in the back according to this Twitter post.
Another trace by the same Twitter user of the author's illustration. It's female Eren and male Mikasa in Jr. High School (which explains the sailor fuku on Eren).
via @kojiko16
The shocking report of the event triggered a flood of fan reaction to the news. This Twitter user is expecting a Yuri paring of female Eren and female Levi.
via @higuhetaxtu
This Twitter user would like to explain the strategicl value of female Eren's bust in a battle.
via @sig_ttr
via @dandelion0323
via @hakobune_14noa
This Twitter user imagined that the only reason female Eren has a long hair is because male Mikasa would threaten her with his death if she cut her hair.
via @cokotaro_now
More images by the fans available at NAVAR. What do you think of female Eren?