Yusuke Iseya and Ryunosuke Kamiki join sequels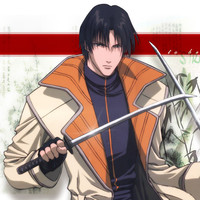 Last month, the announcement that the live-action adaptation of samurai manga Rurouni Kenshin will continue next summer with the popular Kyoto Arc split into two movies was followed with news that actor Tatsuya Fujiwara (Death Notes's Light Yagami) will play political assassin/revolutionary villain Shishio Makoto. If it's going to feature everyone from the manga, including all of the Juppongatana (10 Swords), there's a lot of casting to be done.
Yusuke Iseya (live action Casshern, live-action Ashita no Joe's Rikishi, 13 Assassin's Kiga Koyata) will play strength obsessed Oniwabanshū ninja Aoshi Shinomori. Iseya commented that he remember the manga starting from when he was reading the Shonen Jump magazine. He commented on Aoshi's character design and how it reflected the swordsman's way of internalizing his emotion. The challenge of playing the role was also compared to his work as the classic rival in the 2011 adaptation of Ashita no Joe.
Ryunosuke Kamiki (Kazoku Game, Summer Wars' Kenji Koiso, Howl's Moving Castle's Markl) will play cheerful, deadly young swordaman Sōjirō Seta.
Takeru Satoh is back as Kenshin, with Keishi Otomo similarly returning to direct The Kyoto Fire and The Legend's Conclusion.
------
Scott Green is editor and reporter for anime and manga at geek entertainment site Ain't It Cool News. Follow him on Twitter at @aicnanime.