1994 film previously released by former Viz Media incarnation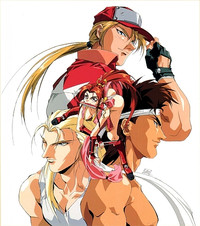 Proving that no anime is too small in terms of impact to be rescued, Discotek Media has announced on its Facebook page that it has acquired the 1994 Fatal Fury: The Movie feature film. The film is based around the Fatal Fury fighting game franchise developed by the former SNK for the Neo-Geo video game system.
The film is also notable for featuring character designs from the always polarizing Masami Obari. Additionally, Discotek also confirmed that the company is seeking to create a new 16:9 anamorphic transfer done from the negative film print, as no such master of the film currently exists in Japan.
With the film being a relic of late 90's to mid-2000's cable channel filler and seeing two previous releases by Viz Communications (nee Viz Media) one on VHS and the other on DVD with help from Pioneer, this release will likely only appeal to those older fans that have already seen it, but the promise of a new video transfer may get even those who barely remember it to buy it. Any of you remember this example of 90's anime?
---
Humberto Saabedra is the Owner of AnimeNews.biz, Editor-in-Chief of PhoneNews.com and an occasional columnist for Ani.me. He can also be found musing on things (and Nico Robin) at @AnimeNewsdotbiz