Breaking the record of the 1st film in 2010 (860,000)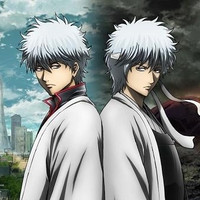 Gintama's 2nd feature anime film Gintama: The Movie: The Final Chapter: Be Forever Yorozuya was released in Japanese theaters on July 6. The film debuted at 4th in the box office and earned 281,859,900 yen (about US$2,876,000) drawing 221,469 moviegoers in the first weekend.
It was officially confirmed on August 4 that the film had attracted more than 1 million moviegoers by August 1 in less than one month since the release (1,069,181 as of August 4). It has already surpassed the record of the 1st film in 2010, Gintama: Shinyaku Benizakura-Hen's 860,000. In commemoration of the box office success, the Japanese theaters which is screening the film will start giving a memorial postcard with a special message from the original manga creator Hideaki Sorachi to the moviegoers on August 10.
Related:
FEATURE: "Gintama: The Movie: The Final Chapter" Exhibition in Osaka
Photos at Umeda Burg 7 theater in Osaka by Mikikazu Komatsu
The trailer
Source: Oricon Style
© Hideaki Sorachi/"Gintama The Movie" Production Committee