Japanese-Canadian co-production of Argentinean comic to see US home video release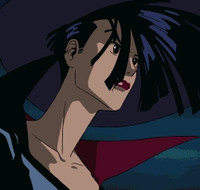 To follow up on the Fatal Fury license rescue, Discotek Media has also announced the license for the Japanese-Canadian co-production CyberSix. The series was broadcast on the 1999 Fox Kids weekend block for one run of 13 episodes before being dropped from the weekend programming rotation.
The series was animated by studio TMS with direct input from the Argentinean comic author and writer, though the series ended up being better known for being the subject of a lawsuit between the authors and James Cameron over alleged plagiarism before being dropped due to lack of means to pursue the claim. Discotek has confirmed that the series will be released next year.
The series involves a woman named Cybersix created from genetic modification fighting her Nazi mad scentist creator's experiments at night and posing as a male teacher named Adrian Seidelman by day with a romantic undercurrent throughout the series, though the 13 episodes that make up the only season of the series never fully explore the romantic subplot that was written within the show's episodes. With that said, does anyone remember this under-developed series?
---
Humberto Saabedra is the Owner of AnimeNews.biz, Editor-in-Chief of PhoneNews.com and an occasional columnist for Ani.me. He can also be found musing on things (and Nico Robin) at @AnimeNewsdotbiz