The heroine Aki Mikage is played by 18-year-old actress Alice Hirose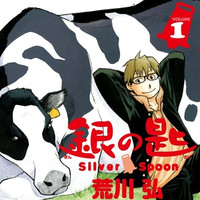 It is officially announced today that a live-action film adaptation of Hiromu Arakawa's popular manga Silver Spoon will be released in Japan in Spring 2014. The protagonist Yugo Hachiken, who is a student at Oezo Agricultural High School in Hokkaido, is played by Kento Nakajima, a 19-year-old member of Johnny & Associates' boys idol group Sexy Zone. The heroine Aki Mikage is by 18-year-old actress Alice Hirose, who is well known for her role as Yuriko Misaki/Electro-Wave Human Tackle in a 2009 tokusatsu film Kamen Rider × Kamen Rider W & Decade: Movie War 2010.
The film is directed by 38-year-old Keisuke Yoshida who had been working for the films by a famous cult director Shinya Tsukamoto (Tetsuo, Bullet Ballet, Nightmare Detective) as a lighting engineer for years and made his directorial debut with a high school girls drama film Namanatsu in 2006. The shooting of the film has started in Obihiro-city, Hokkaido this month.
Cast
Yugo Hachiken: Kento Nakajima(Sexy Zone)
Aki Mikage: Alice Hirose
Ichiro Komaba: Tomohiro Ichikawa
Ayame Minamikujo: Haru Kuroki
The Principal: Ryuhei Ueshima (Dachou Club)
Ichiko Fuji: Kazue Fukiishi
Komaba's mother: Naomi Nishida
Hachiken's father: Mitsuru Fukikoshi
Aki's uncle: Sho Aikawa
Aki's father: Riki Takeuchi
Aki's grandfather: Renji Ishibashi
Yoshiyuki Nakajima: Shido nakamura
Source: Comic Natalie
© 2014 "Silver Spoon" Production Committe
© Hiromu Arakawa/Shogakukan