Two different promotional shorts for the Summer season anime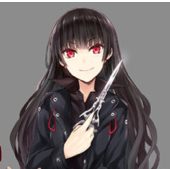 Light-novel based anime Dog & Scissors will transform into a mecha-anime and then get a live action music video for further promotion of the anime in the Fall in time for its home video release.
The mecha-anime version of the promotional short will be based on the exclusive novel to be included in the first volume of the BD/DVD release of the anime which will be released on September 20th. The novel is titled, Dog & Robot which is 52 pages long. The short will be 90 seconds long and the theme song will be performed by the mysterious anime song singer MADOKA (voiced by Asumi Kana) in the anime. A theme song is also planned for the exclusive novel, Dog & Magical Girl which will be included in volume 2 of the anime's home video release.
The live-action short will feature Serizawa Yu, the voice of idol light novel writer Akizuki Makishi in the show. Serizawa will be in her character's cosplay and the video will be footage of the music video production for Makishi. The short version of the video will broadcast first on Nico Nico Douga on August 8th. The full version of the music video and the behind-the-scenes footage will be included in Akitsuki Makishi's character song album which will be released on September 11th, titled Shining!!
Source: Akiba Soken