TV anime by Studio Trigger airs in October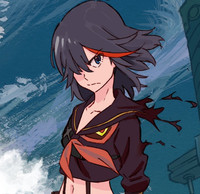 During its panel at Otakon, Aniplex USA has officially announced the rights to "Kill-la-Kill" after months of speculation. The first TV anime from former Gainax staff members Hiroyuki Imaishi and Masahiko Ohtsuka will be streamed and the home video release will also be handled by the US arm. More information on the home video release will be given at a later date.
Synopsis:
The story centers around two fiercely fighting schoolgirls, Ryuuko Matoi and Satsuki Kiryuuin. On a campus ruled by force, a transfer student wielding a Basami sword brings about upheaval.
---
Humberto Saabedra is the Owner of AnimeNews.biz, Editor-in-Chief of PhoneNews.com and an occasional columnist for Ani.me. He can also be found musing on things (and Nico Robin) at @AnimeNewsdotbiz