Help defend manga with 1987 promo art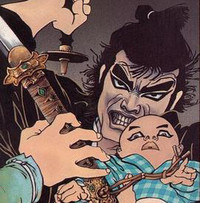 Long before the North American manga boom, classic samurai epic Lone Wolf and Cub was released in North America in a translated English edition by First Comics in 1987, as a series of monthly, comic-book-sized, square-bound prestige-format with covers by Frank Miller (300, Sin City,Batman: The Dark Knight Returns), and later by Bill Sienkiewicz, Matt Wagner, Mike Ploog, and Ray Lago. As a fund raiser, the Comic Book Legal Defense Fund is selling promo art signed by Miller.
See here to pick up the signed promo.
The CBLDF has recently been wokring to raise awareness of a case in which an American citizen faced criminal charges in Canada for manga brought into the country on his laptop. Full audio and lengthy article CBLDF's 2012 New York Comic ConDefending Manga panel were posted online.
They have also worked worth Dark Horse on CBLDF Presents Manga: Introduction, Challenges, and Best Practices on sale in comic shops everywhere December 4.
Made possible with a grant from the Gaiman Foundation, CBLDF Presents Manga is a handbook designed to provide a concise and informed overview of manga—its history, genres, and issues. This educational work delves into the history of manga, its major demographic divisions, its most significant creators, and the challenges it has sometimes faced in North America.
What sets this book apart from other manga guides is its expert panel of writers, including not only scholars of the medium but veterans of the manga industry itself—professionals who have worked from both the North American and Japanese sides of manga in publishing, editing, review, and library services. Edited by Melinda Beasi of Manga Bookshelf, CBLDF Presents Manga is written by Manga Bookshelf columnist Sean Gaffney, Ed Chavez of Vertical, Erica Friedman of Yuricon and ALC Publishing, Shaenon Garrity of Viz Media and Otaku USA, and Robin Brenner and Katherine Dacey of School Library Journal
-----
Scott Green is editor and reporter for anime and manga at geek entertainment site Ain't It Cool News. Follow him on Twitter at @aicnanime.