New episodes every Thursday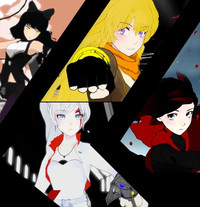 Hark! Crunchyroll has begun streaming the hit animated web series RWBY!
Produced by Rooster Teeth, creators of Red vs. Blue, RWBY is set to broadcast worldwide on Thursdays at 3pm Pacific Time for premium members, with free members able to watch two (2) hours later. More information (and previous episodes) can be found on http://www.crunchyroll.com/rwby.
"Created and directed by Monty Oum, RWBY is the story of four very different girls brought together for one legendary purpose. Ruby, Weiss, Blake, and Yang are new students at Beacon Academy, a school designed to train warriors and monster-hunters. Unfortunately, monsters aren't the only threat to the citizens of Vale and before the year is over, the students of Beacon may find that homework is the least of their problems."
Director Monty Oum says, "It is an incredible honor for RWBY to be hosted on the most respected and cutting edge site for this generation of anime fans. As we hope to contribute to this genre of storytelling and help it grow, a relationship with Crunchyroll brings a great deal of credibility that one can only earn by being a truly dedicated fan. This partnership truly helps validates our efforts in creating our own form of storytelling piece that we hope one day stands among the rest."