Live-action photos of long-eared boss in summer anime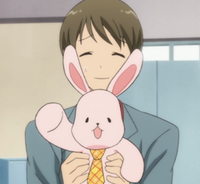 Gamers AKIHABARA in Japan is hosting a limited time exhibition of surprisingly refreshing civil servant anime Servant x Service. The remote-controlled pink bunny which is the Section Manager in the show is finally arriving at work and the anime's official Twitter account posted photos from his commute.
Section Manager in the car on the way to the museum.
Finally at his desk getting ready for business! I personally throughly enjoy Koyama Rikiya's acting in this role in the anime, but this live-action version is very cute, too.
Here is Kayano Ai, the voice of Yamagami Lucy, promoting the museum with the Section Manager. The official site is also giving away wallpapers and Twitter icons here.