Introducing the theme song "Tears BREAKER" by Konomi Suzuki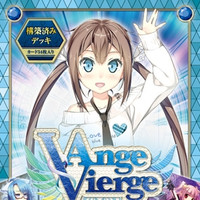 Ange Vierge is a new original trading card game created by light novel/manga publishing company Fujimi Shobo and Media Factory. The franchise will be officially launched in this fall and big events for the game are planned to be be held in Tokyo, Nagoya, and Osaka.
The project has posted a 2-minute anime promotional video produced by Production I.G (Ghost in the Shell series) and Point Pictures (PS3 game ROBOTICS;NOTES and Atelier Ayesha: The Alchemist of Dusk OP) on its official YouTube channel. The PV was first screened at MF Bunko J Summer School Festival 2013 in Akihabara on July 26. The PV features the four protagonist girls of the game, Miumi Hinata (CV: Yuuka Aisaka), Sofina (CV:Mai Ishihara), Aurora (CV: Saori Hayami), and SW=Code Omega 46 Senia (CV: Kana Hanazawa).
The PV also introduces the theme song "Tears BREAKER" by Konomi Suzuki. The CD single for the song,
which is the double-A side single with "Watashi ga Motenai no wa Dou Kangaete mo Omaera ga Warui,"
will be released in Japan on August 28.
"Ange Vierge" anime PV
1st PV
Source: press release
© Ange Project