Levi with a duster in hand, cleaned the pole up and down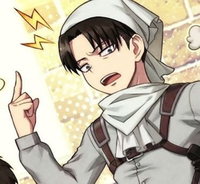 We have seen many different versions of Attack On Titan cosplays including a bungee-jumping Mikasa, con-terrorizing Colossal Titans and the Comiket Survey Corps but I have to admit this one is still pretty cool and features a pole-dancing Levi. There is no nudity in the video, as this is a performance by a dedicated Levi cosplayer cleaning the pole up an down.
The video opens with a group dance performance by an Eren cosplayer then Levi kicks him off the stage. It was a performance during a cosplay party event called Crazy☆Marble☆Night in Japan.