Aniplex promotes the third movie on one of the most popular social networks in Asia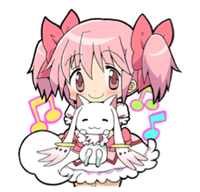 To celebrate the forthcoming release of the third film this October, Aniplex Mobile has released Puella Magica Madoka Magica stamps for LINE social network users following the earlier release of Magi stamps. Now you can force your friend into a contract using these new stamps in LINE.
40 stamps are priced at 170 yen or $1.72 USD to download as part of promotion for the series' third film opening in theaters on October 26th in Japan.