"Itagasa" means "Painful umbrellas"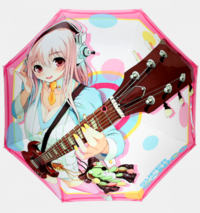 Umbrella manufacturer, seasonal-plant, has released umbrellas printed with illustrations of "Oreimo", movie "K-On!" and "SUPERSONICO".
These "ITAGASA" (gasa meaning umbrella) is fully printed with popular "moe" characters. Seasonal-plant's launched initial sales of this beautifully designed and illustrated "the most itai" umbrella at Wonder Festival 2013 Summer and Comic Market 84, and is currently taking per-orders for make-to-order quantities.
Seasonal-plant's analyzed that by the rising popularity of "Ita T shirts" and "Ita-sha" and other "Ita" items and by increase of users, culture to show and be seen has rooted in the market and the society. "The umbrella market had no new items and had no change for many years. To create a stir in this situation, we will make a new "ITAGASA" trend by Japan's otaku culture, and will send this Japanese culture to the world", says Hirai, who works for the company.
Folding umbrellas and desktop mini umbrellas as well as stick umbrellas are released. Beautiful and vivid printing is realized by high-quality fabric and hand working done to each umbrella by skilled workmen. 9,000 yen for stick type and folding type, 1,700 to 1,900 yen for desktop mini type umbrellas.
"We hope the users to use them while with "Ita-sha", costume-playing, at "doujinshi" events or at pilgrimages. This umbrella is suitable as a parasol as well." "Prints of popular anime characters make this umbrella good for collectors-item. If you feel uncomfortable using in the town, you can display at home, since the vivid colors look good indoor too."
Hirai mentions that the company's dream is to "make rainy days at events and otaku-towns colorful and bright ones. We want to fill the rainy events and towns by "ITAGASA" users".
VIDEO: "ITAGASA" 2013 H1 collection
Links:
ITAGASA official website
Movie "K-On!" official website
Oreimo official website
SUPERSONICO official website