Rescue license and new title planned for 2014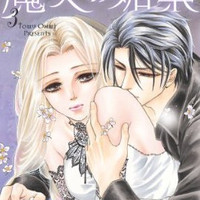 At this past weekend's Japan Expo USA, Viz Media announced that they have licensed Arina Tanemura's shoujo Phantom Thief Jeanne, formerly released in North America by CMX and slated for March 2014, and Tomu Ohmi's josei Spell of Desire, scheduled for August. Ohmi's 2011 following an orphan girl running an herb shop how meets a mysterious, handsome stranger.
CMX described Jeanne
By day, Kusakabe Maron is an ordinary high school girl with more then her share of problems. But by night, she is Phantom Thief Jeanne. As the reincarnation of Joan of Arc, her mission is to steal demon-possessed paintings and neutralize their evil. Jeanne's only ally is the angel-in-training Finn. Together, they must fight evil by night while surviving high school by day.