Slick-looking PS3 RPG confirmed for Western release in early 2014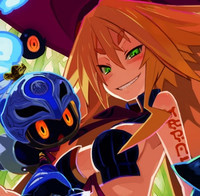 NIS' awesome-looking PS3 RPG The Witch and the Hundred Knights is getting a new name for its overseas release, but don't be alarmed--it's almost exactly the same.
Originally planned for sometime this year, the grammatically-infuriating The Witch and the Hundred Knight (what, we get the Engrish title?) will be making its way to North America and Europe sometime in early 2014, where you can take control of the curvy witch Metallia (no longer Metallica) and her army of minions as they spread chaos and have fun in their own kinda-sorta-evil way.
August has been a pretty crazy month for RPG fans, with the beautiful and straightforward Tales of Xillia, ruthless beat-em-up/RPG Dragon's Crown, handheld heaven with Mario & Luigi: Dream Team, and Final Fantasy XIV: A Realm Reborn launching today. I'd say this is pretty good news for RPG fans to cap the month with--are you looking forward to The Witch and the Hundred Knight's Western release?