They are literally too cute to eat!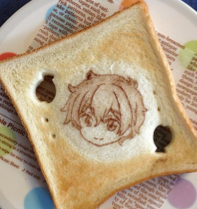 The best morning starts with your favorite anime! How would you like to be served a piece of toast with the swimming boys from hot and sexy swimming anime Free!? A fan in Japan posted her breakfast creation featuring Haruka, Makoto and Nagisa that she made for her sons who are also Free! fans.
@ginkei_18 usually makes character cookies and she applied her method on English bread and toasted it.
A character cookie from one of the best scenes from the series, above. She has a very distinctive taste in what she draws on her creation. Her other beautiful works are below.
A cookie with Natsuki from Uta No Prince Sama!
More Uta Pri toast
A toast with Kamui from Gintama
She makes desserts, too! Shiratama Dango pictured above are shaped like Elizabeth from Gintama.
Curious how she makes them? She has a video on Nico Nico Douga showing how to make a stencil for character cookies, here. She traces the illustration in layers using clear plastic sheet, then use cocoa powder on the brush to copy the patterns on dough to bake.
Source: Togech!