New unit "Naruzaka46" will help manga/anime promotion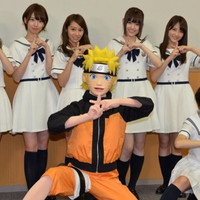 It is officially announced today that Nogizaka46, a female idol group produced by Yasushi Akimoto along with AKB48 and other sister groups, will sing a new OP theme song for TV Tokyo's long-running TV anime series Naruto Shippuden. The anime will start featuring their untitled song as the OP theme from the October 3 episode for the next six months. It will be the 14th OP theme following the current song "Niwaka Ame Nimo Makezu" by NICO Touches the Walls. The release date of the single CD of the song has not been decided yet.
In addition, six members of the group (Rina Ikoma, Reika Sakurai, Nanami Hashimoto, Nanase Nishino, Sayuri Matsumura, Yumi Wakatsuki) form a new unit named "Naruzaka46" as an official supporter team for the anime. The will start appearing in a 15-second section in the anime's September 5 episode. They will also take charge of "Naruto Tsushin-Narutsu," an information page in Shueisha's Weekly Shonen Jump.
You can check more photos here.
Source: Natalie