On sale in in September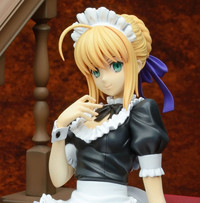 The figure, which depicts Saber sitting on a staircase, is based on an illustration created as a special bonus for the PS Vita edition of "Fate/Stay Night Realta Nua", and features Saber's maid outfit from sequel "Fate/Hollow Ataraxia".
The 240-millimeter-tall figure was sculpted by PMOA, and retails for 10,290 yen. It will be released in September.
Links:
1/7th Scale Saber Maid Costume Figure
Fate/Stay Night
Fate/Stay Night Realta Nua (PS Vita)