Created by a manga creation software ComiPo!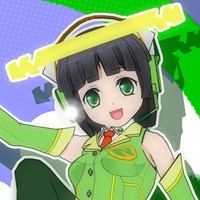 As previously reported in July, Seika-cho in Kyoto Prefecture had invited suggestions for a name for its new female PR character created by a manga creation software ComiPo! between July 5 and August 7. The town announced on September 2 that her name was decided as "Seika Kyomachi". "Seika" is of course the name of the town, and "Kyomachi" means a town in Kyoto. The number of the total entries were 138, including one from Oklahoma, the US. I believe the person was one of the CR News readers who read my article (Thanks!). The second place candidates were "Seika Mimidori", "Midori Ichigono", and "Midori Hana/Midori-chan."
The chairman of the selection committee was Kentaro Takekuma who is best known as one of the authors of Even a Monkey Can Draw Manga and now works as a professor of the manga department at Kyoto Seika University. Seika Kyomachi will start working as a public relations officer of the town via
the official site and PR magazines. The town is also planning to launch a fansite for her soon.
ComiPo! short PV featuring Seika Kyomachi
via: press release
© Seika Town Office