A fashion magazine made exclusively for her!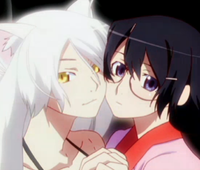 The Monogatari series written by Nishio Ishin features many great heroines of many different types and one of my absolute favorites is Hanekawa Tsubasa. I can't even start to express how happy it makes me to be able to report this news since as many times Tsubasa was the focus in the series, she is definitely one of the unfortunate ones and sometimes it makes me want to hurt Araragi for how she is treated. For people like us, Hanekawa finally takes the spotlight as the muse of the upcoming anime fan book, Monogatari Series Heroine Book vol. 1, Hanekawa Tsubasa.
The fan book is in the format of a fashon magazine exclusively for Tsubasa, because she does not even have any casual clothes other than her school uniform, remember?
This 48 page fanbook will include an interview with Horie Yui, the voice of Tsubasa, and an interview/discussion with Nishio Ishin, the original writer and Shinbou Akiyuki, the director at animation house SHAFT. Since this is a fashion magazine for her, there are pages with Japanese fashion model Hirako Risa, who recently became an anime fan. Hirako cosplays as Tsubasa in the feature spread as you see below. Another feature is "Horoscope by Black Hanekawa", written by Nishio. The release date is set for September 20th, the pre-order at Amazon is already available for 945 yen.
Hirako Risa was actually posting a lot of photos from the photoshoot as Tsubasa on her blog. You can tell she must have been very excited since Bakemonogatari is the reason she became an anime fan.
They even used the same type of cell phone Tsubsa uses in the photoshoot.
Hirako also put together an outfit for Tubasa to go out on a date. We will see how it goes.
Source: