Alice and the Pirates collaboration with the anime series leads to limited edition apparel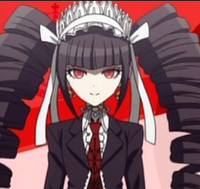 The Gothic-Lolita dress of Celestia Ludenberck from Danganronpa will now be made by Japanese Gothic-Lolita brand Alice and the Pirates and is currently available for pre-order in Japan. This collaboration was made possible by the Kibougamine Gakuen Store event at Shinjuku Marui One in Japan.
The dress set comes with the jacket, the blouse and the skirt and 30,240 yen including tax. It comes in one size while the printed tie is sold separately at 4,620 yen, including tax.
A lot of other Danganronpa merchandise is also being offered at the event that opend on Aug. 30 and runs until September 10th.
A new Monokuma cake by Patisserie Swallowtail is also available during the event for 630 yen.