Available in late October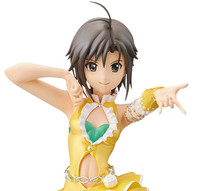 In late October, figure and toy company MegaHouse will be releasing a 1/7th scale figure of "THE [email protected] 2" character Makoto Kikuchi in her "Vital Sunflower" outfit.
The figure of popular tomboy character Makoto Kikuchi is part of the "Brilliant Stage" series of anime and video game heroine figures. Measuring approximately 210 millimeters tall, the 1/7th scale figure reproduces Makoto's boyish charm and cuteness, and features her wearing a sunflower-influenced yellow and green dress.
The figure retails for 8,190 yen.
Links:
"The Idolmaster 2" Makoto Kikuchi Vital Sunflower Ver.
THE [email protected] OFFICIAL WEB