The top three are all returning shows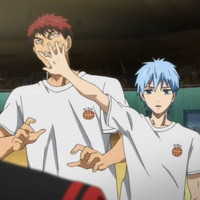 It's always interesting (and a little odd) to see just how different the Japanese anime fan base is compared to us, and nothing shows that off like Biglobe polls. This time, Japan voted on their most anticipated anime of the fall season.
Here's the list:
1. Magi 2

2. Kuroko's Basketball 2
3. Valvrave the Liberator 2
4. Little Busters! Refrain

5. Gingitsune
6. My Mental Multiple-Choice Power is Completely Ruining My School Romantic Comedy
7. Unbreakable Machine Doll

8. Kill la Kill
9. Ace of the Diamond
10. Yozakura Quartet: Hana no uta

11. Kyoukai no Kanata
12. Nagi no Asu Kara
13. Wanna Be the Strongest in the World!
14. Golden Time

15. Yowamushi Pedal
16. Samurai Flamenco
17. Infinite Stratos 2
18. Coppelion
19. Phi Brain 3
20. Meganebu!
Did your most anticipated show make the list? Do you think Japan has strange priorities? Sound off in the comments!
Via Sankaku Complex (NSFW)
-------
Amanda Rush is the Associate Editor for Ani.Me and contributor for OtakuCollectionDX. She swears in the middle of the night on Twitter as @TheAnimaven.