Estúdio de Attack on Titan produz longa-metragem para o próximo ano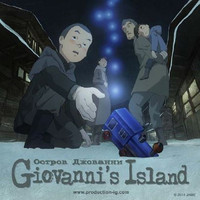 O estúdio de animação Production I.G (Attack on Titan, Blood: The Last Vampire) anunciou a produção de um novo filme completamente desenhado à mão intitulado Giovanni's Island ("A ilha de Giovanni" ou, no original, Giovanni no Shima).
O filme será realizado por Mizuho Nishikubo, colaborador de longa data de Mamoru Oshii, com argumento de Shigemichi Sugita (From the Northern Lands) e Yoshiki Sakurai (Ghost in the Shell: Stand Alone Complex), e será apresentado pela Japan Association of Music Enterprises em comemoração do seu 50.º aniversário. No Japão, a Warner Entertainment Japan vai lançar o filme na primevera de 2014. Internacionalmente, este será distribuído pela própria Production I.G, que descreve o enredo da seguinte forma:
Como resultado do conflito mais desastroso que a humanidade alguma vez experienciara, a minúscula ilha de Shikotan foi integrada no oblast [província] de Sakhalin... e, na fronteira ressentida deste canto remoto do mundo, a amizade entre crianças de dois países diferentes floresce timidamente, esforçando-se para ultrapassar as barreiras da língua e os rancores da história. Inspirado em acontecimentos reais.
A 15 de agosto, disseram-nos que tínhamos perdido a guerra.
Naquela altura, não compreendemos muito bem.
Então, um dia, tudo mudou.
Inúmeros soldados, usando uniformes que nunca antes víramos, chegaram à ilha.
Foi nesse dia que conheci a Tanya.
via: Anime News Network e Production I.G
______
Sukigu é contribuinte de notícias lusitano da Crunchyroll.pt e obcecado por tudo o que seja japonês. Segue-o em @sukigu_!