"Majestic" and "Epic in every sense"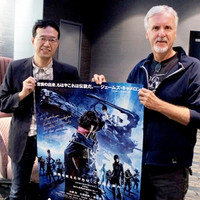 When James Cameron saw the 2D version of Shinji Aramaki's latest full-CG film Space Pirate Captain Harlock this spring, he agreed to give his words "Unprecedented quality. This film has already become a legend." as a tagline for the promotional campaign for the film. After the release in Japan, the director Aramaki flew to Los Angeles with the 3D version of the film and finally showed it to Cameron at his studio. Right after the screening, Cameron shook Aramaki's hand and said, "It was fantastic. Congratulations." Accordingly, Cameron praised the film with the following words (no complete sentences were introduced in the original article);
"Visually poetic"
"Majestic"
"Epic in every sense"
"Emotionally compelling"
"Its style and difference are its strength" 
The film was released in Japan on September 7. Despite Cameron's praise, it earned a very disappointing
133,969,750 yen (about US$1.33 million) in the first weekend on more than 300 screens, while the anohana:
The Flower We Saw That Day movie sold 161,225 tickets for 198,177,700 yen (about US$1.99 million) in the
previous weekend on only 64 screens.
The trailer
Facial capture explanation video
Source: My Navi