7th single due this winter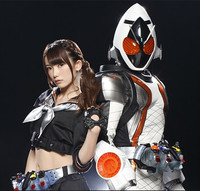 The Kamen Rider Girls – a group of leggy lovelies assembled by the mighty Avex corporation to promote the Kamen Rider series – have a new live music show coming up in Tokyo and now see fit to tease us with a new video which offers an earful of their new single due this winter and (better yet) new outfits adorned with tiny henshin belts.
The concert itself, K.R.G.S. ROCK and KICKS No. 2, will be held on 10/20 at ShibuyaWWW and is being billed as the group's "2nd live" show and based on this promo, the theme of the show will be "rock", "rock", and even more "rock." Maybe the group's evil alter egos -- The Shocker Girls -- will even show up and cause trouble!
BONUS: The most recent promo pics of the Kamen Rider Girls, along with their "special friends".
Hitomi Isaka & Kamen Rider OOO
Kaori Nagura & Kamen Rider Kiva
Mitsuki Endo & Kamen Rider Fourze
Nao Yasuda & Kamen Rider Blade
Erica Yoshizumi & Kamen Rider Den-O
Chisato Akita & Kamen Rider Wizard
---------
Patrick Macias is editor in chief of Crunchyroll News. He is also the editor of Cosplay USA magazine. Check out his blog at http://patrickmacias.blogs.com