Of the people with glasses, by the people who love glasses, for the people with glasses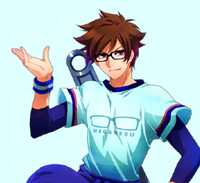 The Fall anime with particular attention placed on corrective vision wear, Meganebu! has already inspired an event for #foreveralone single people with glasses. To attend this match-making party titled MegaCon (the compound word of Megane, glasses in Japanese and Conpa, a type of party in Japanese), you have to love glasses first of all and actually wear a pair if you are a male. You have perfect vision? Not to worry, rental plano glasses are also available.
The event will be held on Friday, October 25th in Japan. A maximum of 25 males and females for a total of 50 people can attend to meet with compadres who share the same passion for glasses for friendship and possibly more. The party will be conducted in the traditional Japanese mass match-making party style, including a self-introduction by the each participants, game time to get to know participants, free talk time (3 eight-minute sessions, shuffling groups each time) and the exchange of message cards at the end.
Qualification:
Males in 20s ~ 40s who love anime. Must love glasses and wear them (plano glasses are acceptable)
Females in 20s ~ 40s who love anime and must love males with glasses
Cost:
4,500 yen for males (+500 yen if renting Sabae-made glasses)
2,500 yen for females
Drinks, snacks and Meganebu! original goods included
Location : Houmeikan in Daikanyama, Japan
Meganebu! is associated with Sabae city in Fukui prefecture, Japan, famous for their production of eyeglasses. The glasses seen in the photo (posted by the official Facebook page) above were available at their production announcement press conference for people to try Sabae-made products.
Do you think this will be a success? Would this idea work in your area?