Top 20 male leads in harem comedies listed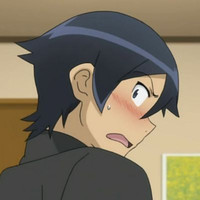 Ah, the harem comedy. It's a staple of the anime world, and for a good reason - who wouldn't want to be surrounded by a collection of beautiful/sweet/tsundere/smart girls? If variety is the spice of life, then the harem comedy is the Sriracha of anime. Juggling a handful of girls requires real talent (or a lot of luck), which is why a recent Japanese poll paid tribute to the masters of the harem.
The list:
1. Kousaka Kyousuke - Oreimo
2. Yuuki Rito - To Love-Ru
3. Kamijou Touma - A Certain Magical Index
4. Issei Hyoudou - Highschool DxD

5. Araragi Koyomi - Bakemonogatari
6. Maehara Keiichi - Higurashi When They Cry
7. Itsuka Shidou - Date A Live
8. Kidou Eita - Oreshura

9. Kirigaya Kazuto/Kirito - Sword Art Online
10. Katsuragi Keima - The World God Only Knows
11. Ayasaki Hayate - Hayate the Combat Butler!
12. Hiraga Saito - The Familiar of Zero
13. Hasegawa Subaru - Ro-Kyu-Bu!
14. Himenojouji Akito - OniAi

15. Aikawa Ayumu - Is this a Zombie?
16. Kusanagi Godou - Campione!
17. Sugisaki Ken - Student Council's Discretion

18. Kodaka Hasegawa - Haganai
19. Sagara Yoshiharu - The Ambition of Oda Nobuna
20. Aono Tsukune - Rosario + Vampire
So, what do you think? Should these guys give lessons? Was someone left out? Sound off in the comments!
Via Sankaku Complex (NSFW)
-------
Amanda Rush is the Associate Editor for Ani.Me and contributor for OtakuCollectionDX. She swears in the middle of the night on Twitter as @TheAnimaven.