To be held October 19th and 20th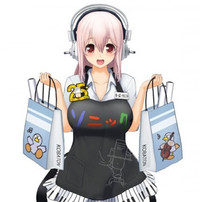 Anitamasai, an abbreviation for "Anime and Manga Festival in Saitama", is an anime and manga convention celebrating works originating in Saitama, including "Anohana", "Kamisama Kiss", and "Lucky Star". The event will include concerts, stage performances, and merchandise vendors, among other attractions.
Highlights include an outdoor area with a "Lucky Star" anime car display, a cosplay contest, idol performances, gourmet food from Saitama restaurants, and a bazaar area selling products made locally in Saitama. The outdoor area will also feature numerous vendors, as well as a maid cafe run by Omiya's local HoneyHoney maid cafe. The indoor hall will house stage shows and concerts by Saitama's anison singers, voice actors, and other local luminaries.
To promote the event, video game company Nitroplus will be lending their official mascot, Super Sonico, to represent the convention. Starting in mid-September, an official guide book for the event will be sold, accompanied by one of three limited edition Super Sonico posters.
The event is intended to increase tourism to Saitama and promote the area's anime and manga industry, which has garnered attention as of late for being the setting of several popular series. The event is expected to draw 60,000 visitors over two days.
The convention will run from 9:30 AM to 6:00 PM on the 19th, and from 10:00 AM to 5:00 PM on the 20th. Admission is free.
Link:
Anitamasai