Starts today, Mon/16, 12:00p.m. Pacific Time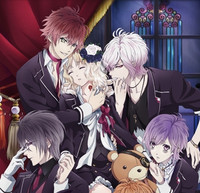 The fall season of streaming anime has BEGUN! Diabolik Lovers, based on the PSP visual novel by Rejet, begins simulcasting today.
Better still, this supernatural-tinged otome game adaptation, animated by studio Zexcs (Flowers of Evil) is set to broadcast every Monday starting today September 16, at 12:00p.m. Pacific Time for its premium members, with free members able to watch one week later. More information can be found on www.crunchyroll.com/diabolik.
Official synopsis (yes, I am not making this up)
"The girl learns her fate amongst the beautiful scent of wild roses. The girl encounters them, as if being drawn there by the threads of fate.
'Yours Truly is going to take her every first experience.'
'Tell me, do you hate me? Do you want to learn more about me?'
'Does it hurt? You poor thing... Okay, I'll make it hurt even more, little bitch.'
'I know why you came to this house. This blood (of yours) is of the finest quality.'
'Humans are nothing more than containers of blood.'
'Stay out of my business! Come any closer, and I'll destroy you!'
They are vampires, hungry for blood and avarice. Something inside the girl begins to unhinge, and something starts to stir. No matter where she goes, she can no longer escape."
Diabolik Lovers will be available to Crunchyroll's audience in the following territories: USA, Canada, UK, Ireland, South Africa, Australia, New Zealand, The Netherlands, Scandinavia, and Turkey.
---------
Patrick Macias is editor in chief of Crunchyroll News. He is also the editor of Cosplay USA magazine. Check out his blog at http://patrickmacias.blogs.com