Preview included in Blu-ray vol. 3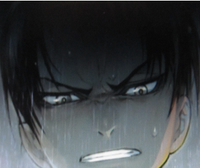 The recent announcement of Attack On Titan spin-off comic to run in Shojo manga magazine ARIA was received with mixed emotions by some fans since it will be done by Sunaaku Gan and Suruga Hikaru and not the original author, Isoyama Hajime. However, the biggest surprise for fans was revealed in the preview of the visual novel "Kui Naki Sentaku (A Choice With No Regrets)" which is included in Blu-ray vol. 3, released on September 18th in Japan, the reason why Levi joined the Survey Corps. SPOILER ALERT! Proceed with caution!
"Are you going to kill me, Levi?"
"Yeah, the reason why I joined the Survey Corps is......"
"Irvin, so that I can kill you."
Source: Shingeki-no-Kojin-Sokuhou