Photos inspired by the art of Babs Tarr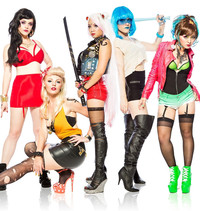 As the much-loved franchise celebrates its 20th anniversary, Sailor Moon mania is running wild. Now, a group of fans based in SoCal have banded together to create their own rough and tumble photo tribute. Behold … the Sailor Moon bosozoku gang!
As project coordinator Michelle "Chubby Bunny" Nguyen explains, "My friends and I got together to make this fun Sailor Moon cosplay shoot happen. Having grown up with the series, we are all huge Sailor Moon fans. We were inspired by Babs Tarr's amazing Bosozoku-themed Sailor Scouts and set out to recreate it along with adding our own styling to her vision."
The art by Babs Tarr that inspired the costumes and photo shoot
Says Michelle. "We have all been cosplaying for waaay too many years- since back in the early 90s if you can even imagine that far back (yeah we're kinda old). This project was a great chance to actually properly photograph and document a fun side project of ours, and I'm really grateful we did!
We all DIYed our own outfits out of various things we had laying around. My vest was a remake I did of a plain black one, adding Sailor Moon patches, safety pins, star shaped studs, and gradient painting the bottom blue and pink."
Sailor Mercury: Mandie Bettencourt, GeekyGlamorous.COM
Sailor Venus: Jennifer Newman, Jennernugen
Sailor Moon: Michelle "Chubby Bunny" Nguyen, IamChubbyBunny
Sailor Mars: Ruby Rocket, Rubyleighyoung.com
Sailor Jupiter: Yume Ninja, YumeNinja.com
Photography: Greg De Stefano
Editing: Greg De Stefano & Yume Ninja
Makeup: Yume Ninja, Te$$ Money (direction)
---------
Patrick Macias is editor in chief of Crunchyroll News. He is also the editor of Cosplay USA magazine. Check out his blog at http://patrickmacias.blogs.com