"The Castle of Cagliostro" and "Totoro" are the most beloved films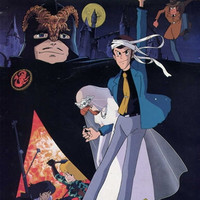 Following Hayao Miyazaki's retirement press conference on September 6, Culture Convenience Club which owns Tsutaya, the largest chain of DVD/CD rental shops and bookstores in Japan, conducted a survey asking 1,251 members on his anime films including their most favorite works. Only 4.15% of them have never seen any of his films.
The most voted film by the male members is Miyazaki's first feature in 1979, Lupin the Third: The Castle of Cagliostro, which gets 17.4% of the total votes, then followed by Laputa: Castle in the Sky (14.8%) and My Neighbor Totoro (13.9%). The female members choose Totoro as their most favorite film (22.5%), Spirited Away as 2nd (14.6%) and Laputa as 3rd (13.3%). It is a kind surprising that Ponyo, his 4th successful feature at Japanese box office, is one of the least popular films among both genders.
Male members' ranking
1. Lupin the Third: The Castle of Cagliostro (1979) -17.4%
2. Laputa: Castle in the Sky (1986) -14.8%
3. My Neighbor Totoro (1988) - 13.9%
4. Spirited Away(2001) -13.0%
5. Nausicaä of the Valley of the Wind (1984) -10.0%
6. Princess Mononoke (1997) -7.7%
7. Kiki's Delivery Service (1989) -7.0%
8. Porco Rosso (1992) -6.0%
9. The Wind Rises (2013) -2.5%
10. Howl's Moving Castle (2004) -2.0%
10. Ponyo (2008) -2.0%
"Lupin the Third: The Castle of Cagliostro" Japanese trailer
Japanese poster
Female members' ranking
1. My Neighbor Totoro (1988) - 22.5%
2. Spirited Away (2001) -14.6%
3. Laputa: Castle in the Sky (1986) -13.3%
4. Kiki's Delivery Service (1989) -12.2%
5. Nausicaä of the Valley of the Wind (1984) -11.6%
6. Princess Mononoke (1997) -6.7%
7. Lupin the Third: The Castle of Cagliostro (1979) -6.2%
8. Howl's Moving Castle (2004) -3.5%
9. Porco Rosso (1992) -2.9%
10. Ponyo (2008) -2.1%
11. The Wind Rises (2013) 0.6%
"My Neighbor Totoro" American trailer
Japanese poster
Source: press release