Historical fiction manga to be released in North America in October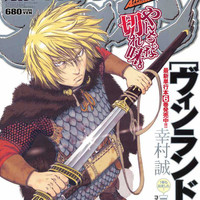 If you're hoping for an anime adaptation of Makoto Yukimura's Vinland Saga manga, keep your fingers crossed because Afternoon, the home manga magazine of the historical fiction, is teasing a big, upcoming announcement. While the nature of the announcement hasn't been specified, an anime wouldn't be the first based on Yukimura's work. His Planetes, a hard sci-fi about a team of orbital debris collectors, was adapted into a 2003 Sunrise anime.
Kodansha Comics will be releasing the first volume in hardcover and digital on October 8th.
Talking about the release, KC outlined the plans:
As some of you may know, this October we're releasing Book One of Vinland Saga, the historical action manga by Makoto Yukimura, the artist of Planetes. If you're not familiar with it, it's set in medieval England during the Viking invasions, and it follows a band of Viking warriors through an epic story of vengeance, blood, tragedy, royal intrigue and more blood. A lot of people have been looking forward to this series for a long time (including us), and we intend to do it right.
This release is going to mark many firsts for us, and as promised it's going to be packed to the brim with extras. Let me get straight to the details!
Two volumes in one. 460+ pages including extras.
The first Kodansha Comics hardcover release.
Larger trim size of about 8 inches by 5.5 inches (for you to better appreciate this stunning artwork).
Exclusive Q&A with Yukimura created specifically for the U.S. edition.
Viking cosplay photos from the artist! (Yes, you read that right!)
And most exciting, we'll be serializing the unreleased Yukimura story "For Our Farewell Is Near" ("Sayonara ga chikai no de") in our editions of Vinland Saga!
There will also be several little Easter eggs (excuse me — I mean Ēostre eggs) in the book design for observant readers. Until then! Skoal!
Thorfinn is son to one of the Vikings' greatest warriors, but when his father is killed in battle by the mercenary leader Askeladd, he swears to have his revenge. Thorfinn joins Askeladd's band in order to challenge him to a duel, and ends up caught in the middle of a war for the crown of England.
------
Scott Green is editor and reporter for anime and manga at geek entertainment site Ain't It Cool News. Follow him on Twitter at @aicnanime.