Madoka and Homura appear as models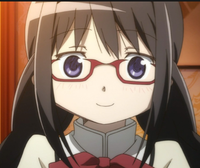 The girls of Puella Magi Madoka Magica already have enough apparel offerings to outfit themselves from head to toe, as there are hats, contact lenses, clothing, tights and even nail film, but they didn't need any of that to be featured in a fashion magazine where they appear as models.
The cover of November issue of smart, a fashion magazine for males in Japan that has MadoMagi spead will be available on the 24th for 720 yen.
Here are Homura and Madoka modeling BEAMS T apparel.
Source: Yaraon