Plus, video of voice actress Mai Fuchigami trying the game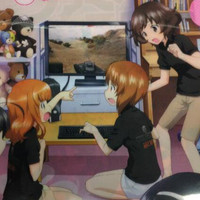 As previously posted, the girls of Sensha-Do from Girls und Panzer are helping the launch of the World of Tanks MMO in Japan and Wargaming Japan has posted the latest official collaboration video that was released at the Tokyo Game Show this past weekend on their YouTube channel.
As part of the promotion, voice actress Mai Fuchigami, the voice of Miho Nishizumi, tried her hand at the MMO in this video.
Special clearfiles were presented at Tokyo Game Show.
A how-to play manga by Hagi Midori (The Strange Tale of The Twilight Demon) was posted on the official website
The Girls, including the disappearing coach are also featured on the cover of the latest Dengeki Hobby magazine